Registration for 2017 Safe Sport Leadership Conference Still Open!
More Info.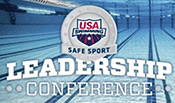 Jon Raymond, a Virginia Swimming coach for many years, passed away on Sunday, January 8th. We express our deepest condolences to his family and team members.
Funeral arrangements will be posted when available.


Betsy Lavin, an official and coach for WAC, is an inspiration to us all!
She recently reached her goal of swimming 1 million yards in 2016 as part of her fight against MS.
See the article about her final laps in the quest and her plans for 2017. http://www.vagazette.com/sports/vanews-wac-lifer-lavin-defies-ms-by-swimming-million-yards-20161220-story.html
USA Swimming National Select Camp

2017 in Colorado.Congratulations to Callie Dickinson, TIDE, and Olivia Bray, GATR, for being selected to attend the USA Swimming National Select Camp in January. They will join 66 other athletes from across the country who were selected on the basis of their Hy-tek and IMX scores. Jeff Kincaid, SEVA, has also been selected as the boy's Head Team Manager.
USA Swimming Update on Officials Page
Newly Broken LC Relay Records - 8/14/16
2016 Broken Long Course Records - 8/14/16
2016 Broken Short Course Records - 9/1-12/19
Newly Broken SC Relay Records - 12/19/16
Top Ten List Found under "Times" tab

2015-2016 All Star Team found under
"Member Resources/Athletes" tab.
An updated list of club representatives
has been posted on the
House of Delegates page.
Please check this list and let Mary know of any changes that need to be made.

Please note that background checks in Virginia may take two weeks or more to be finalized.
"Be sure to plan ahead!!"

Questions?
Please contact Mary Turner.

MISSION
Virginia Swimming creates opportunity and
promotes sportsmanship in the pursuit
of personal excellence.

VISION
Virginia Swimming moving forward,
swimming fast.

CORE VALUES
Honesty - Inclusion - Athlete-centric